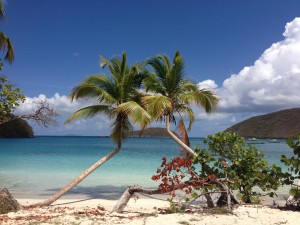 A few months ago my wife and I spent a month in the Caribbean and this was a Bodacious Journey for a couple of reasons.
First; a month is a long time to take off from work and we thought this was a big deal.
Second; this was a trip to relax, have fun and for me to transition from the corporate world to running my leadership development company full time.
In the Caribbean sunsets are the big show of the day and we were positioned on the beach for a good view of the sun setting over the Virgin Islands. Our attention was drawn to two snorkelers who were making their way toward the beach. With perfect timing the two rode a large wave and with little effort walked onto the beach and removed their snorkel gear. This young couple that washed up in front of us seemed to be experienced in the water and the waves as they negotiated the rough seas very well.
The young man called out to me, "Do you speak english?" A little surprised by the question, I replied " Sure do where are you from?"
This brief exchange was the start of hearing the story about this young couple from Hawaii. They had been on a 40 foot sail boat sailing throughout the Caribbean chain of islands for three months.This was just the beginning of year long voyage that would take them from the Virgins to Bermuda and across the Atlantic ocean to the Mediterranean and a tour of Europe.
We thought taking a month off was a big deal and here was this young couple taking a year off for their adventure of a life time. They were not independently wealthy or trust fund kids, as it turned out they were crewing the boat for the young man's father who owned the boat. When they ran out of money they would get a job on one of the islands earn some money and then move on. This young couple was a journey that most people only dream about. They were on a BODACIOUS JOURNEY.
Your Bodacious Journey Starts with YOU
You will never experience a journey  that you never start and it is up to you to get started. Your journey starts with YOU:
It does not start with a position
It does not start with academic achievement
It does not start when you have more money
It does not start when you lose 20 pounds
It does not start with social status
It does not start next year
It starts right where you are
Your Bodacious Journey starts with who you are today
Start Your Bodacious Journey and You Will:
Live More

Achieve More
Give More
Be More
Your Bodacious Journey does not have to be on the scale sailing around the world in a 40 foot sail boat. Your Bodacious Journey may be to grow to new levels in your profession, to build new relationships, to forgive, to be a better spouse, father or mother. No matter the journey you need to go on, it starts with YOU and is waiting for you to get started.
Be Bodacious and Start Your Journey!
A Different Kind of Leadership for a Different Kind of Leader
If you like this blog read more from Steven D Wood in his new book. Now available at online, or at your local Barnes & Noble or Borders. Also available for your Kindle or Nook.