Only a three-hour flight from Houston is the scenic country of Guatemala and while there are many great things about the country of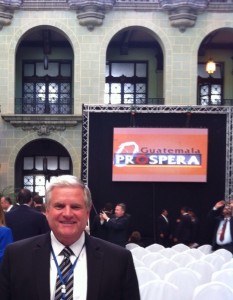 Guatemala, it is a country with debilitating social issues and a country without heroes. Guatemala is a country of the young where the average age is 20 years, making it fertile ground for transformation.
Recently I was honored to travel to Guatemala with a team of John Maxwell leadership coaches to facilitate transformation of this nation. While in Guatemala we worked under the guidance of John C Maxwell, an internationally known leadership expert who has authored over 70 books and advised heads of nations and leaders of corporations on leadership principles.
For years I have studied and applied John Maxwell's teachings in my business and personal life and it has made a big difference for me. In 2011 my leadership career went to a new level when I became part of the John Maxwell Team as a certified coach. Without hesitation I jumped at the opportunity to become a founding partner and it has transformed my career and leadership ability.
Currently in Guatemala, half the children living there suffer from malnutrition resulting in stunted growth and lowered IQ scores. It serves as a "source" country for trafficking women and children for sex. Setting midway between Columbia and the US, Guatemala serves as one of the world's busiest intersections for illegal drugs. This is a country of 370,000 orphans and high unemployment. Clearly something needed to change.
In February 2013 at the request of the President of the country, Otto Perez Molina, and an organization called Guatemala Prospera John Maxwell visited Guatemala to discuss the issues and transformation. During this meeting the leaders of Guatemala committed to lead transformation working along side the John Maxwell organizations.
When John Maxwell presented the Guatemala opportunity at a meeting in Orlando he was visibly moved by the need and the eagerness for transformation in the country.  While I had never been to Guatemala and knew little about the country, when John Maxwell extended an invitation to be part of a team to facilitate transformation in Guatemala, I knew immediately that I wanted to be part of the effort. Moved by the mission of transformation, the John Maxwell leadership coaches agreed to pay our own expenses take a week of our time to be part the effort.
To begin transformation in Guatemala the John Maxwell team trained leaders in government, military, police, media, business, education and churches how to facilitate roundtable discussions. Each leader received training so they could facilitate 30 weeks of roundtable meetings on 15 Personal Values and 15 Laws of Personal Growth. The roundtable approach is simple, highly effective and proven way to lead transformation utilizing two-way communication.
Transformation Begins With Me
The theme of the initiative, Transformation Begins With Me, communicated that transformation and change is not the responsibility of someone else but clearly the responsibility of each individual. If I want the world to change, then change begins with me, not the government or other organizations. While this was a major mind shift for the people of Guatemala they embraced it with eagerness.
The nationwide initiative was supported by the President of Guatemala who hosted John Maxwell and the team of coaches to a nationally televised event at the National Palace. It was an honor to be the guest of the President at this event and I was overwhelmed by the way the leaders of this country are committed to transformation of this country.
In Guatemala, I trained leaders at the National Social Security Office and the Guatemalan American Institute. The response of the people in the organizations was overwhelming, they want transformation in their country and they are not content with the status quo. Over the three days of training the John Maxwell team of coaches equipped over 20,000 people who will facilitate roundtable sessions in their communities, businesses and organizations. This was a big deal in the country and the people are committed to change.
Transformation In Me
Originally; I went to Guatemala to train others to lead transformation. During the course of working with the Guatemalan people I was personally transformed by the experience.
Guatemala is a country taking their social issues head on and the people are excited and inspired by the transformation-taking place in their country. Transformation is a journey and the people of this country have started the journey to change their country one person at a time.
A Different Kind of Leadership for a Different Kind of Leader
If you like this blog read more from Steven D Wood in his new book. Now available online, or at your local Barnes & Noble or Borders. Also available for your Kindle or Nook.