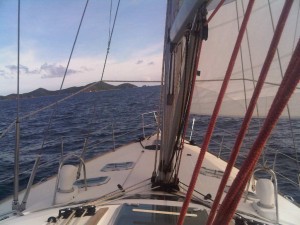 I am writing this post while anchored in Francis Bay off St. John USVI and the water is like glass. No waves, no ocean swells to rock the boat just a nice calm bay.
I am always concerned when I take several days vacation.
"What will they do without me? Who will approve things? Who will answer the emails?"
Then after a few days it becomes apparent things do continue to run and the company does just fine while I am away.
Sitting in a calm bay like the one I am in right now. Causes me to reset my perspective, relax and let my mind drift from day to day business and just think. Not about work or what is not getting done at the office. Time to think about all the things that have gone right and the good people in company who can handle things well when I am away.
Fair Seas and Rough Seas
On this sailing trip we have had calm seas and good winds. However; that is not always the conditions we sail in. Often the seas are rough with large swells that toss the boat from side to side. Or the winds are lite and sailing is poor.
On this ten day trip the conditions have been near perfect. When the weather is great and the winds are good sailing can be a lot of fun and relaxing. But when conditions are poor sailing can be a lot of work.
Today's business climate is tough to predict. Economic forecast seem to be no better than good guesses and specific market conditions can change overnight. In good business climates it is easy to be a good leader. However; difficult conditions really test our leadership skills and can leave us exhausted trying to keep the ship headed the right direction.
Leaders Need Time in a Calm Bay
Too often when business conditions are difficult we replace good leadership with more hours on the road or at the office. While it is important for leaders to be at the helm during difficult times, it can wear on the leader.
As leaders we are tempted to stay at the helm and work more hours until we become exhausted and ineffective.
When conditions are difficult leaders need to find a Calm Bay to drop anchor. Take time away, refresh yourself and your leadership. Take time to think and recharge.
As in song by Kenny Chesney, "No Shoes, No Shirt, No Problem", steer your ship to a calm bay and take time to relax. There is no glory in working nonstop without time off. Take time for yourself, your family and for your leadership.
In the words of Forrest Gump, "That's all I got to say about that".