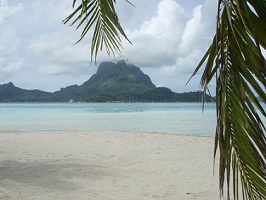 While I am writing this blog; sleet is pinging on my office window and the temperature is predicted to drop into the teens tonight. More ice and cold weather is not my idea of a good weather day. The cold weather tends to lead me to my favorite web sites to plan my next trip to warmer weather. I can not help but dream about how nice it would be to set the sails and let the Caribbean trade winds move us toward our next warm destination.
It was not too many years ago the thought of sailing in the Caribbean was only a dream, today it is a reality. Over the past few years we have sailed throughout the Caribbean and even in the South Pacific. What began as a dream fueled by the discomfort of cold weather is now something we enjoy every year.
To pursue the dream of sailing required us to go beyond our personal horizon. We had never set foot on a sailboat and had never been to the Caribbean; so as far as we could see it was only a dream. However, as we took a step closer to the dream, as we moved closer to the horizon of what we could see, we could see a little further.  As we arrived at each horizon a new horizon appeared and day by day, horizon after horizon our dream became a reality.
Sailing a yacht in the Caribbean has inspired a new spirit of confidence, courage and adventure in me to go beyond my personal horizons. Instead of only looking at the horizon and dreaming about what lies beyond I am inclined to go to my horizon so I can see further in my personal and business life.
Explore Beyond Your Horizon
Have the courage to go to the edge of your known abilities, doing so will cause you to grow and learn new skills. Do not eliminate yourself from pursuing new adventures because of fear or what you can only see today. Pursuing your new adventures will require extraordinary courage, unrestrained action and boldness. The only way you can sail into new harbors of your life is to have the courage to step out and take on new adventures.
You Make Your Own Choices
You can choose to only dream about sitting on a yacht at anchor in a beautiful palm fringed bay, or you can take action and pursue your bodacious adventure. What is your bodacious adventure? Dream bodacious dreams and pursue bodacious adventures and you will live a bodacious life.
Your bodacious dreams are yours to pursue, but it is up to you to pursue them. If you ever want your dreams to become reality, you must take extraordinary, unrestrained, and bold steps to pursue them.
If you like this blog read more from Steven D Wood in his new book.