From ranch-han
d to sales and leadership expert, my professional journey has been anything but ordinary. It has been extraordinary, unrestrained and bold. It has been Bodacious.
Ranch to Corner Office
There was a time I was more comfortable in a cowboy hat and boots than a pair of dress shoes and business suit. It is long way from the ranch to a corner office with an international corporation.
I was entrusted with multi-million dollar business units and to oversee a $100,000,000 growth initiative. By conventional standards, I was under educated and under qualified. So what enabled me to succeed when I should have failed and persist when I should quit?
Help Find a Cure For Rett Syndrome and Get a Free Copy of My Book
Leadership
Leadership is the difference between ordinary and extraordinary. Leadership is how I went from punching cows to signing multi million dollar deals. Leadership is how I transformed under-performing teams to extraordinary teams. I have worked along side some of the best business leaders in North America and been coached by top leadership experts. Leadership is the difference and it is what made me successful. But is is not the only thing…
Connecting
To motivate, inspire and entertain my audiences, I incorporate memorable stories into my leadership and business talks. I have worked on the front line of business and teach proven leadership principles that work and get results. Here is the difference, I have been in the trenches, pushed the tough month, made hard decisions and won big deals.
To expand my message beyond the meeting room, I put together a book that communicates Bodacious Leadership principles in an entertaining way that will encourage and empower its readers to "Put Life in Their Leadership".
---
 

For 2016 I am booking programs for non-profit and charitable organizations only. If you have a great cause I can support please contact me.
Contact Me and Let's Schedule a Time to Talk
---
 A Different Kind of Leadership for a Different Kind of Leader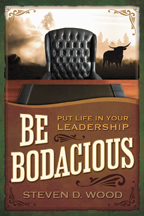 Buy It Now From Barnes & Noble
---